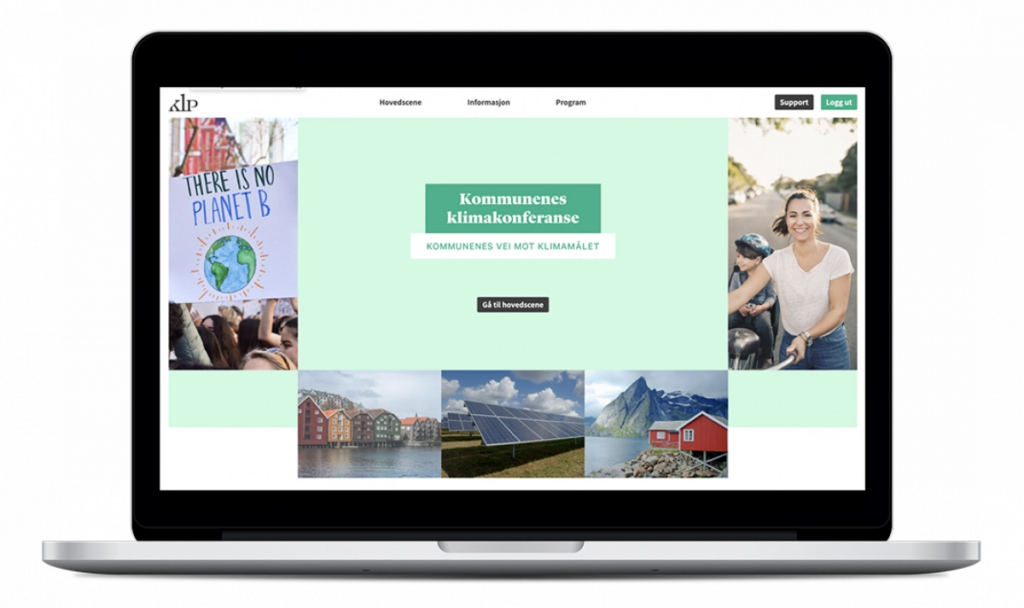 Photo: Tappin platform for the KLP Climate Conference
From a one-day conference to a digital series in four parts.
KLP organized the Municipal Climate Conference for the first time in 2019, when the participants met at the old Munch museum in Oslo for a lecture, lunch in the park and a tour of the museum at the end. Tappin provided the mobile app which gave the participants information about where they should be when and opportunities to participate interactively along the way. In 2020, the plan was to organize the conference in the newly opened Deichman Bjørvika, but when it was no longer possible to gather the participants physically, the conference was divided into four live broadcasts during the autumn which the participants could follow from home. Each broadcast had its own theme, different guests and its own features, but the same purpose: to make the municipalities' path towards the climate target even clearer.
One platform for all broadcasts
Tappin provided the digital platform, where the participants followed all the broadcasts. Adapted with design elements from KLP's own marketing department, the platform went well with its own websites, registration page and newsletter sent out to market the conference. We opened the door for new participants to sign up and automatically gain access to the platform throughout the autumn, and before each broadcast a reminder was sent out to everyone about when the broadcast started and how to log in. During the broadcast, it was possible to submit questions which the conference presenters put to the panel on stage. Recordings were published on the platform shortly after broadcast so that participants could watch all the broadcasts again whenever they wanted.
Climate forum in smaller groups
Some of the participants had signed up for the climate forum and were divided into smaller discussion groups after each broadcast. These were then given access to a separate video meeting room on the platform where moderators from KLP sat ready to moderate the discussions around the day's topics.
New opportunities to reach out and meet more people
This year's digital climate conference gathered three times as many participants as the physical conference the year before. The recordings have also been well viewed in retrospect, and the feedback from the participants shows that the change to the conference layout was successful. Here are some of them:
I am very grateful and happy that KLP has this conference. GREAT that it wasn't just canceled due to corona, but just moved to a new platform. I think/hope the format makes it easier for more people to participate as well. Looking forward to the last round 🙂
Fantastic to be able to follow this online!
The broadcast was simply pleasant to watch - very good production!
Read more about the conference HERE
Delivery in collaboration with the event agency Playroom.