Tappin is growing internationally, and as part of our vision to make everyday life easier for organizers and participants of all types of events, we are now going live with a full-fledged, self-service version of our event management system.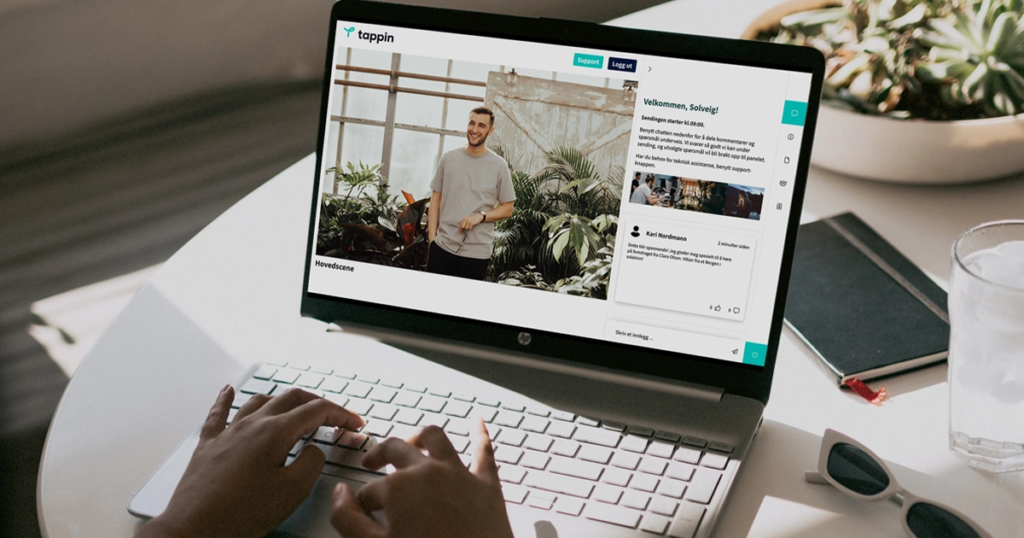 The solution includes the entire event course, from registration and landing pages to the execution of the event itself, with a digital event solution and event app. Both the organizer and participants can also use the platform to network after the event.
How does a self-service Tappin solution work, you ask? You can find the answer simply by testing the solution with our free trial period. More on that later. Whether you are organizing a physical, digital or hybrid event, our self-service solution is self-service in the truest sense of the word. You can easily adapt the visual expression, functionality and any restrictions for participants yourself - to your exact event. Easily.
What can I use the self-service solution for?
The short answer is "everything", but we are happy to elaborate: The solution works for everything from webinars to larger, international conferences. We take you through two concrete examples.
Example 1: The simple webinar
As an organizer, you have a full overview of registration, and can easily communicate with participants via e-mail or SMS to keep them up to date. For example, if you are organizing a webinar, you can create a registration, send out invitations and keep track of registrations. When the webinar starts, you can log in and click on your own host channel where you will find smart functions such as being able to share the screen, ask others to speak, make recordings or divide the meeting into smaller "breakout sessions".
Example 2: The large, hybrid conference
You also have a full overview of the registration for larger events. You can also see who signs up physically, and who intends to participate digitally. Regardless of the form of presence, you have an overview of the participants, and can adapt the information to each group. At the same time, all participants get the full Tappin experience, and can make use of functions such as chat rooms (both joint and 1-to-1) and polls, as well as submit questions to the speaker - regardless of whether you are in the room or behind the screen.
The platform also has customized functionality for annual meetings, congresses, company tours, seminars, management meetings, kickoffs and much, much more.
If you want to charge for elements of your event, be it entrance tickets, accommodation, meals, vouchers or something else, you can set this up directly in the event management system - of course at no extra cost. You can also put your own stamp on the expression with your company logo and offer your own products.
What if I need technical assistance?
The solution has its own support function, where we are ready to help. By self-service, we really mean self-service, but at the same time understand that things can happen. Contact us and we will help.
Free trial period
We are very proud of this new solution and can't wait to get started. That's why we invite our customers to test the solution for free for one month with access to all functions!
You can use the trial period to test out features such as registration, stream, polls, chat, various speakers, group rooms and customized participant information.
At the end of the trial period, you can choose between three different packages: starter, medium or business+. More information about the product, the packages and not least the registration itself can be found on the product page.
So what are you waiting for? Start!