What does your company do to save money with interview processes and events?
Be inspired by how Tietoevry organizes and carries out its Graduate recruitment in the Nordics. This contributes to sustainable development, inclusion and a saving of CO2 emissions on the entire 99% compared to physical meetings.
Annually, Tietoevry conducts a Graduate recruitment program on Tappin's digital platform where approx. 750 candidates are invited and meet.
By using a digital solution, Tietoevry places inclusion high on the priority list. Participants from a number of countries and from as many as four continents take part on one and the same day. There are candidates studying in the USA, Hong Kong, South Korea, Japan, Europe and Australia. A total of 1,500 interviews are conducted in seven days.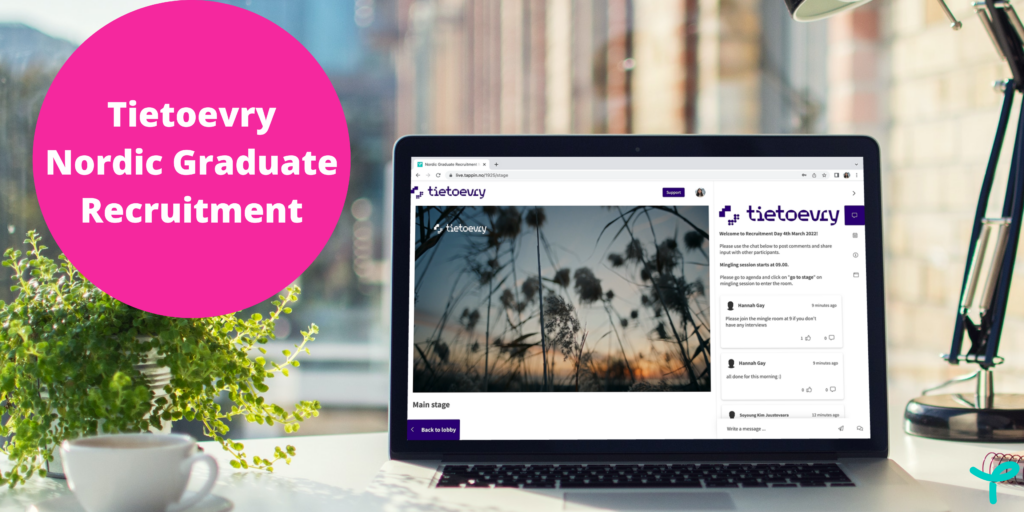 Tietoevry is a leading technology company with a solid Nordic heritage and global capacity.
The company has 24,000 experts globally; specialized in cloud services, data and software. They serve thousands of customers in business and the public sector in more than 90 countries. Tietoevry creates meaningful technology that helps make the world a better place.

Sustainability and inclusion
Today, sustainability is often called ESG. It is an English abbreviation for Environmental, Social and Governance, and is an important parameter on which Tietoevry is measured.
In Norwegian, this translates into environmental, social and business ethics. ESG is about how a company's products and services contribute to sustainable development, and how the business is managed to minimize factors that affect society and the environment in a negative way. Tietoevry's Graduate Recruitment Team contributes directly by carrying out the recruitment process for its Graduate program digitally on Tappin's solution a couple of times a year
For Tietoevry and the candidates, there are a number of advantages to carrying out the recruitment process for the program digitally:
Time-efficient and inclusive:

All managers in the company give their presentations and interviews from where they are.
1,500 interviews are conducted in 15 hours, and have an increased efficiency with shorter breaks between each interview compared to physical interviews
No travel is required, which is effective for both Tietoevry employees and the candidates, as several candidates, as mentioned, study abroad and would have had a long and expensive journey in terms of time, money and CO2 emissions for an interview.
The candidates who are invited can conduct interviews from wherever they are in the world. This is an important element for inclusion as there are several students who study abroad and most likely would not have had the opportunity to sit for a physical interview.
Less waste:

No ordering or throwing away food.
No printing of information or brochures.
No special heating of premises to accommodate so many candidates, which affects CO2 emissions.
ROI for Tietoevry – low cost of arranging the meetings compared to a physical event.
Implementation of Tappin's digital solution:
This is a digital event where Tietoevry's Graduate Recruitment Team introduces the company with vision, content and engagement and includes the candidates with interaction and engagement via polls and chat. A joint chat defuses a tense interview situation the candidates are in. Tietoevry feels that this creates commitment and makes the candidates lower their shoulders.
Communication and invitations to Graduate Recruitment Days are distributed via Tappin and the digital solution is fully adapted to Tietoevry's graphic profile.
Speed dating with breaks is set up. Candidates and managers meet here for interviews and mingling.
Satisfied candidates and managers:
A survey about the process carried out after the recruitment process among both the candidates and interviewers gives positive feedback.
There is particularly good feedback on the break rooms with networking opportunities, where it is very easy to convey information about the company, and where all candidates get answers to questions they have. This is both transparent and simple.
Reduction of CO2 of over 99%*
Sustainability and optimal utilization of technology are important to Tietoevry.
Total CO2 emissions for the event are calculated at 395.56kg CO2e emissions, where the estimate for a physical meeting has an estimated consumption of 650,460.00kg CO2e emissions. This is more than 99% lower C02 emissions than by carrying out the event physically.
Per person at this digital event, 0.5 kg of CO2 has been generated, while at a physical event, each individual participant would have had an estimated emission of 293 kg of CO2, which is 99% higher!
To put the C02 reduction in perspective, this amounts to the electricity consumption of 110 households annually.
In short, Tietoevry contributes to the UN's sustainability goals by using Tappin's digital solution that makes it possible to link knowledge and people together digitally.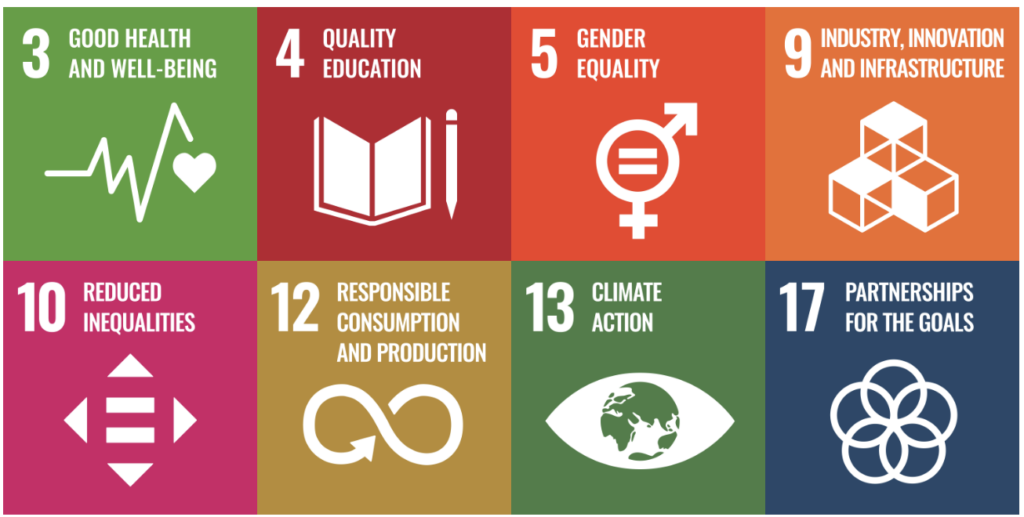 Stable digital solution and a solid collaboration
Tappin's digital tools for events have a simple user interface that is very easy to learn. Today, in Tietoevry's Graduate Recruitment Team, we do everything ourselves, from creating events to video recording the various posts, and Tappin only assists us when needed, says Emil Fredriksson, Nordic Graduate Recruitment Project Lead.
"We have a solid partnership and work very well together, and Tappin is very service oriented, which is crucial for us. We are both satisfied with the collaboration and not least the technical solution which works seamlessly for both us and the candidates. We have received a lot of good feedback from the candidates, which is an important factor for us. This form of recruitment is something we will continue with in the future as well", says Emil Fredriksson.

* Source on Co2 Footprint: https://www.digitaleventcarboncalculator.com/calculator/
(starting point for 5 hours per recruitment day – 15 hours in total)
370 participants (participants + managers)
Prerecordings are set to 2 hours per time – a total of 6 hours out of the total 15 hours)