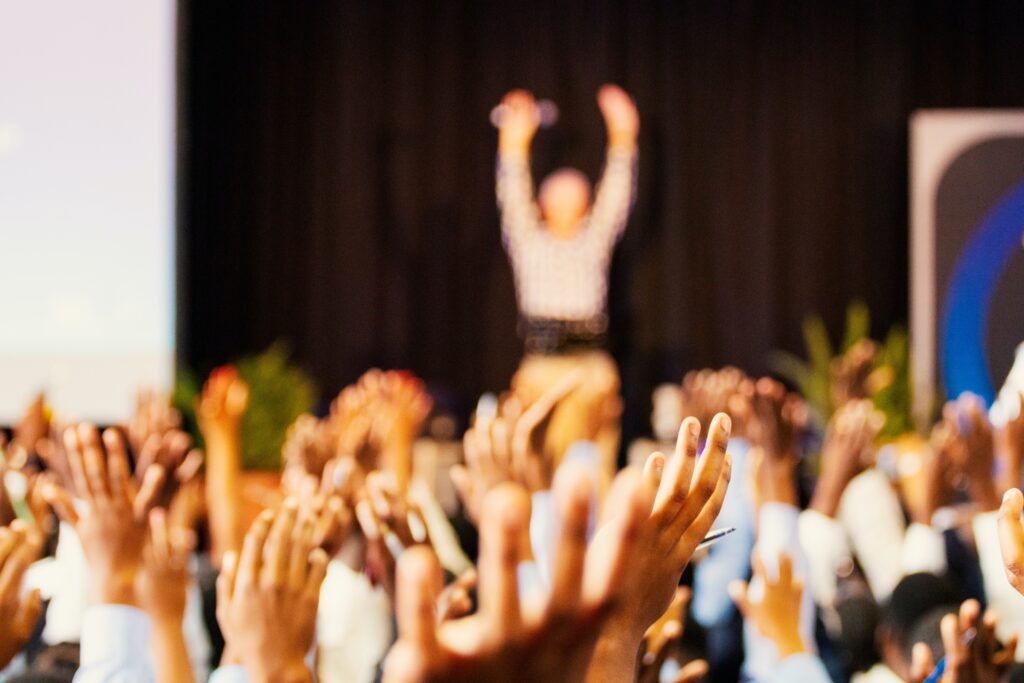 Both digital and hybrid arrangements and events increase in scope and size, the traditional physical arrangement is still the one most used. This may be whether you are organizing a breakfast seminar, conference, internal physical event, general meeting, kick-off, internal town halls or product launch.
The need for digital solutions for physical events is increasing, and it is today an expectation from the participant that they have access to an event app, digital agenda, opportunities for digital communication, document sharing and other functions when participating in an event.
A digital solution for physical events is both financially profitable and saves the environment. As an organizer, you provide the participants with the necessary information at the right time and a number of functions that create engagement.
Invitation, registration and communication
With Tappin, you have full control all the way from registration to registration, implementation and communication before, during and after the event.
Send out invitations in good time, communicate with participants via email and SMS, send out reminders, access to the web app all from one and the same interface.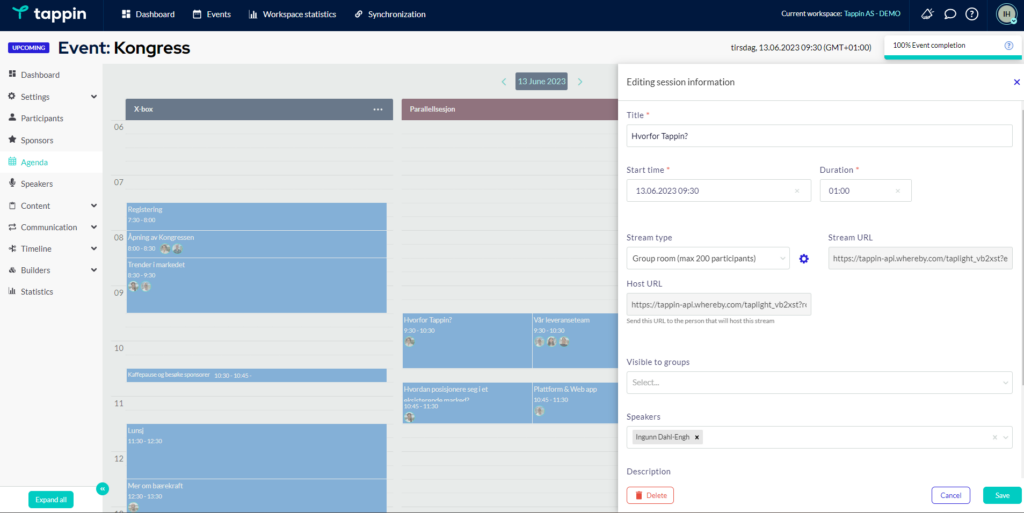 Program and agenda
With Tappin, there are no restrictions on how many breakouts and parallel sessions the event has. Build a logical and clear agenda with different tracks, own parallels and breakouts with individual live streams, video group rooms, webinars or on-demand videos.
With Tappin's strong group management module, you can ensure that all participants see only what they need to see. At the same time, all participants can build their own agenda with our "My calendar" function.
Sponsors, partners and exhibitors
If your event has sponsors, partners or exhibitors, these can easily be entered into the system, sorted into categories and presented with their own profiles.
With Tappin, each individual sponsor can have their own Live Stream, promote themselves with text, images and videos and give the participants all the information they need about the company, products and contact information.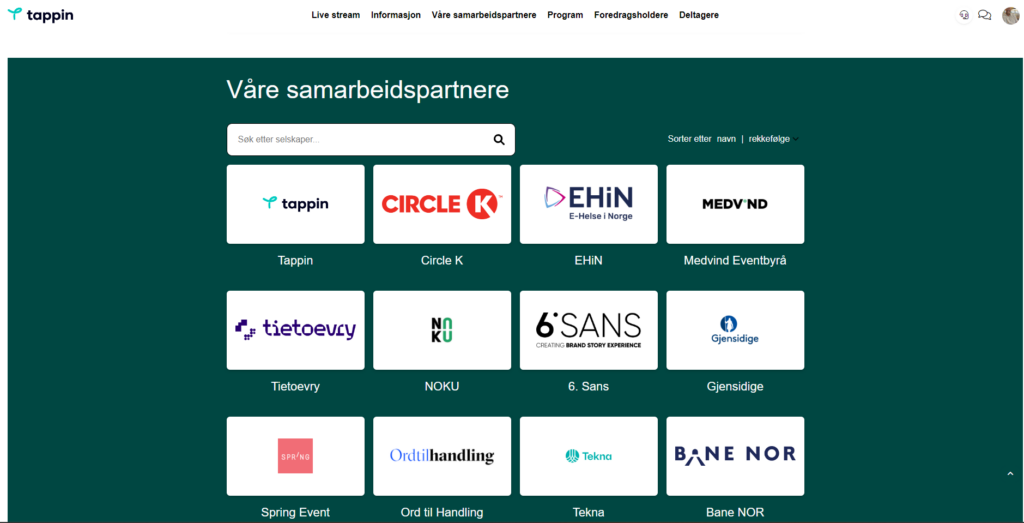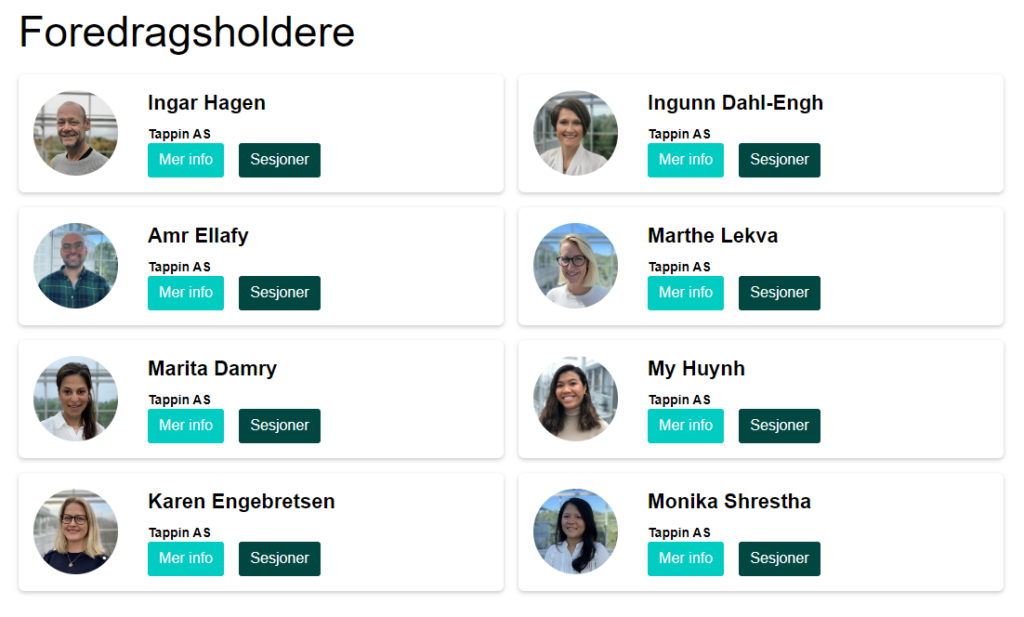 Speakers
Showcase the event's speakers in the digital lobby, in the event app and on the main stage with Tappin's speaker module.
Creating speakers is done easily in the Tappins event administration. Add a profile picture, biography, photos, videos and information about which sessions the individual speaker is participating in.
Drag-and-drop the order in which you want to present speakers. Also add contact information and links to social media and websites.
Information
Inform participants about what they need. Publish your own information pages with text, images and video.
With a merge function, you can personalize the pages with information about the individual participant.
Tappin's group management module allows you to decide who sees which information pages.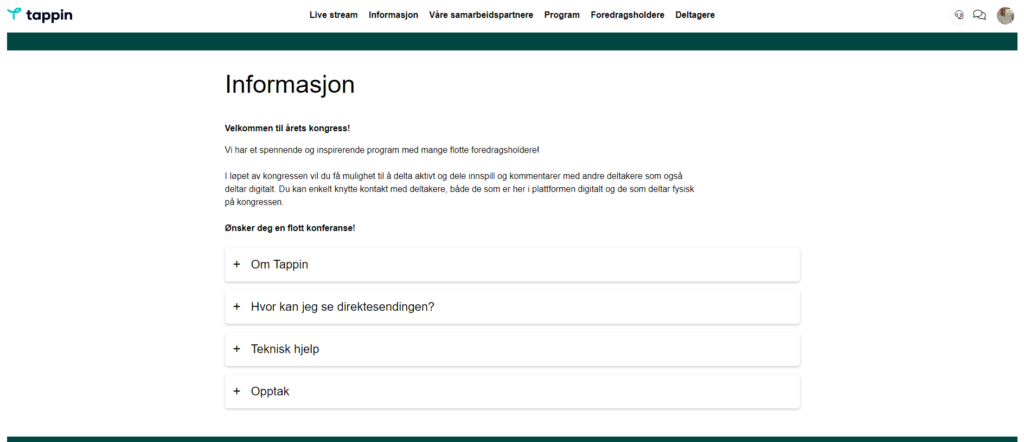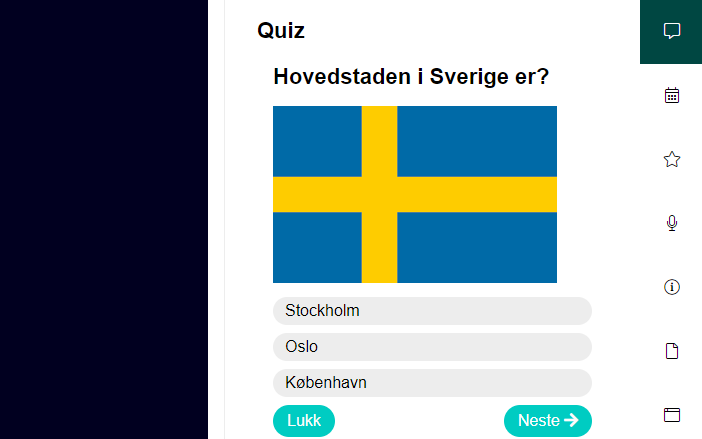 Games and entertainment
Engage participants with opinion polls, polls or quizzes.
With Tappin's gamification module, you can engage participants with entertaining quizzes and polls. Use the quiz module to measure knowledge transfer, carry out tests in connection with onboarding or training or as pure entertainment. Show off the results on the big screen or directly in a live stream.
Interactivity
Tappin gives participants many opportunities for interactivity and networking.
With our interactive news feed, participants can post comments and photos, comment on each other and actively participate in discussions.
With a 1-to-1 chat participants can have a direct chat with other participants regardless of whether the participant is physically or digitally present at the event.